Riverbed SteelHead CX 5070 Series

Market-leading WAN optimization eliminates distance as a performance inhibitor

Sorry, this product is no longer available, please contact us for a replacement.
Click here to jump to more pricing!
Overview:
SteelHead CX/GX delivers best in class optimization for today's Hybrid WANs, accelerating the performance of all applications to improve productivity and reduce costs.
SteelHead optimizes the entire hybrid enterprise from on premises to whichever cloud solution or combination of the hybrid cloud that's right for your business. For every App. Every User and Every Network in your enterprise.
SteelHead empowers IT to strategically manage the hybrid enterprise with:
Optimization: We deliver up to 100x performance for on-premises, cloud, and SaaS applications with optimization across the hybrid enterprise to users everywhere.
Visibility: We identify more applications than any other vendor to streamline management and provide integrated network, application and end user visibility, for optimal application performance.
Control: We provide centralized, policy-based controls that are application-centric, so you can easily, direct, prioritize and secure applications across various network paths.
SteelHead delivers:
Industry Leading Optimization
By addressing not only bandwidth, but also latency, SteelHead uniquely addresses network performance completely, to deliver the best end-user experience - while minimizing the impact on infrastructure.
SteelHead leverages:
Patented Data Streamlining to eliminate redundant data transfers
Transport Streamlining to reduce TCP round trips and data per trip
Application Streamlining to reduce application transactions
Application-Intelligence and Control
Deep Packet Inspection (DPI) on SteelHead precisely identifies application flows and classifies over 1,300 applications - on-premises, in the cloud or SaaS. Applications are automatically organized into groups that are logical to the business and to which global policies can easily be applied to meet business requirements and application SLAs.
Built-in security
SteelHead delivers optimization for demanding security protocols such as SSL/TLS and HTTPS and secures all traffic flowing between SteelHeads, whether over private (MPLS) or Internet links. Strategic partnerships with Zscaler, and support for external HSMs such as Safenet, offer flexibility for security requirements and simplified integration.
Secure Web Proxy
SteelHead offers an embedded, single-ended web proxy delivering latency reduction and bandwidth savings for video traffic including VOD, and live streaming such as YouTube.
Enterprise Scalability
SteelHead can support up to 1 million connections through an intelligent, scale-as-you-grow performance architecture. SteelHead Interceptor amplifies the solution to enterprise scale, with load balancing intelligence and high availability to meet and scale network-wide throughput.
SteelHead for Hybrid WANs is available in a variety of form factors/models, including appliances, virtual software and cloud instances.
Visibility, Optimization and Control for the Public Cloud
The Business Challenge
The hybrid enterprise with multiple datacenters, branch offices, and public and private environments faces performance limitations inherent in networks and applications—bandwidth constraints, latency, and competition among applications. Dynamic SaaS applications, in particular, frequently experience slow performance and deliver a less-than-optimal user experience due to the distance from the cloud to the user
As organizations migrate their initial data and later broaden their application footprint into the cloud, ensuring that applications perform as needed and as guaranteed becomes critical. For SaaS and cloud applications, reduced application visibility, loss of control, and slow or unpredictable performance, as well as difficult migrations and complex deployments, can challenge IT.
The Riverbed Solution
Built for public cloud environments, Riverbed® SteelHead™ CX for Cloud extends Riverbed's #1 optimization solution for hybrid enterprises to Infrastructure-as-a-Service (IaaS) clouds. SteelHead CX speeds migration to the public cloud and accelerates access for users from virtually any location.
SteelHead CX for Cloud delivers the best end user experience across hybrid networks by optimizing application performance for cloud and Software-as-aService (SaaS) applications. The solution helps ensure you can meet application performance SLAs for users no matter where they are located, regardless of network latency and enterprise bandwidth limitations.
Compatibility with Microsoft Azure, Amazon Web Services, and VMware ESX-based cloud and vCloud Air environments offers the freedom to deploy applications in nearly any cloud and move between cloud providers with ease. SteelHead accelerates the majority of cloud providers and has been certified for Microsoft Azure and VMware vCloud Air.
Features:
Key Features In-Depth
Accelerate everywhere
Accelerates application migration and user access to the cloud
Accelerates the delivery of enterprise data and applications in public cloud environments
Leverages multiple optimization techniques, including data, application, and transport streamlining, as well as specifically-designed SaaS and cloud intelligence
Uniquely ensures optimal end user experience, despite distance from the cloud to the user, with GeoIQ for Office 365
Visibility and control over optimized applications
Enables end user monitoring and troubleshooting for SteelHeadoptimized and non-optimized enterprise Web and SaaS applications through seamless integration with Riverbed® SteelCentral™ AppResponse
Supports end-to-end network monitoring and reporting through seamless integration with SteelCentral NetProfiler
Improves problem resolution with on demand gathering of packet and flow data from the branch through activation of SteelCentral NetShark
Dynamically selects the best application path based on application-aware, business intent-based policies, and network availability
Leverages simplified configuration with REST API for hybrid network services—path selection, QoS, and secure transport—and custom API scripts for monitoring
Transparent cloud interception
Simplifies the integration of optimization into the cloud's highly automated, heavily virtualized environments where the servers' physical locations may change at any time
Provides automated redirection to appropriate SteelHead CX cloud instance even when server IP addresses or subnets change
Simple portal-based management
Connects to supported cloud providers with SteelHead Cloud Portal
Allows you to deploy and manage a SteelHead CX cloud instance with just a few clicks
Offers simplified management and licensing, plus instant upgrades, of SteelHead CX for Cloud
Benefits:
Improved application performance
Increases application and data transfer performance by up to 100x while reducing bandwidth utilization by up to 95%
Effective utilization of network resources
Delivers traffic prioritization and shaping to allow optimal utilization of MPLS and Internet circuits while meeting business requirements
Reduced MTTR with integrated visibility
Enables cost savings by reducing MTTR by over 2x in 79% of deployments (Source: TechValidate. TVID: FFB-228-288)
Reliable and efficient hardware performance
Enables savings in power consumption, leverages SSD-based hardware, and supports organizational growth with more users per unit of rackspace
Accelerate applications and reduce bandwidth consumption
Increases application and data transfer performance up to 100x
Reduces bandwidth utilization by up to 95%, thus deferring costly network bandwidth upgrades
Increases throughput and the number of connections in a single box by up to 50%
Cloud flexibility and platform choice
Offers compatibility with a wide variety of cloud services for the freedom to move between cloud providers with ease
Quickly integrates with other SteelHead solutions
Provides elastic sizing and easy cloning for a scale-as-you-go infrastructure for cloud
Cloud-like, cost-effective economics
Shift from high capital expenditures to lower operational expenditures
Manage cost and effectively offer the right service levels based on user demand with monthly subscription-based pricing models and commitments as short as six months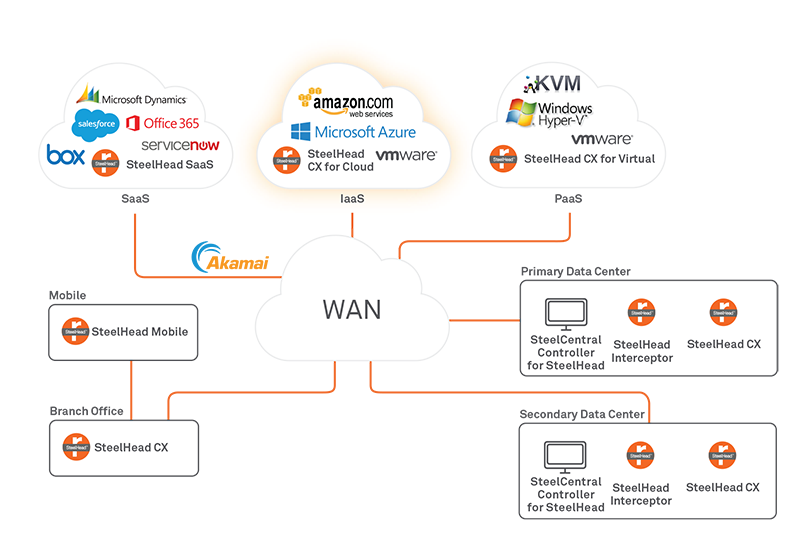 Technical Specifications:
SteelHead CX: Model Specifications
 
Branch office SteelHead
Mid-Size Office SteelHead
Model
CX255 Series
CX570 Series
CX770 Series
Configurations
U
L
M
H
L
M
H
L
M
H
Profile
Desktop
Upgradeable To
255 L/M/H
255M/H
255H
-
570 M/H
570-H
-
770-M/H
770H
-
Optimized TCP Connections & UDP Flows
50
75
150
230
2753
4503
7003
1,0003
1,500
2,5003
Optimized SSL/TLS Connections
50
75
150
230
2753
4503
7003
1,0003
1,500
2,5003
Optimized WAN Capacity1
2Mbps
6Mbps
10 Mbps3
10 Mbps
20 Mbps3
30 Mbps3
Network Services – WAN Capacity2
10 Mbps3
30 Mbps3
50 Mbps3
100 Mbps3
150 Mbps3
Network Services – Flows4
8,000
8,000
16,000
Network Services – Rules/Classes5
300
500
1,000
Data Store Capacity
50GB
70 GB SSD
150 GB SSD
Web Proxy Cache Capacity
50 GB
50 GB
50 GB
100 GB11
Storage Fault Tolerance
-
-
-
Hot Swappable Drives
-
-
-
RAM10
2 GB
2 GB
4 GB
Expansion Slots (PCI-e)7
-
-
-
Included Bypass Ports (Copper)
2
4
4
Max. # of Bypass Ports
2
4
4
SteelHead SD Capable
No
Yes
Yes
 
Large Office or Data Center SteelHead
Model
CX3070 Series
CX5070 Series
CX7070 Series
Configurations
L
M
H
M
H
L
M
H
Profile
1U
2U
Upgradeable To
3070 M/H
3070 H
-
5070 H
-
7070 M/H
7070 H
-
Optimized TCP Connections & UDP Flows
3,000
6,000
9,000
16,000
30,000
80,000
110,000
180,000
Optimized WAN Capacity1
50 Mbps
100 Mbps
200 Mbps
400 Mbps
622 Mbps
1 Gbps
2 Gbps8,9
Network Services – WAN Capacity2
250 Mbps
500 Mbps
Unrestricted
Network Services – Flows4
48,000
96,000
192,000
256,000
512,000
Network Services – Rules/Classes5
2,000
4,000
Data Store Capacity
320 GB SSD
1.8 TB SSD
2.4 TB SSD
4.8 TB SSD
Web Proxy Cache Capacity
200 GB
300 GB
400 GB
Storage Fault Tolerance
RAID6
RAID6
Hot Swappable Drives
4
8
8
10
18
RAM10
12 GB
24 GB
48 GB
64 GB
128 GB
Expansion Slots (PCI-e)7
2
4
Included Bypass Ports (Copper)
4
4
Max. # of Bypass Ports
12
20
SteelHead SD Capable
Yes
No
1. Optimized WAN capacity limit is enforced on outbound optimized traffic. Inbound optimized WAN traffic is not capped 2. Maximum outbound WAN throughput. For SteelHead SD models the WAN capacity is equivalent to VPN throughput performance. Full VPN throughput spec for SteelHead SD 3070M/H models may not be achievable in all environments 3. RiOS 8.6.2b or later 4. Inclusive of all optimized and/or managed flows 5. Maximum number of classes plus rules. Not applicable to SteelHead SD models 6. RAID1 configuration for HDD, Data store uses fault tolerant striped (FTS) configuration for SSD 7. Optional Network Bypass cards: Dual and Quad LX and SX GigE Fiber GigE, Quad Copper GigE, 10GbE SR/LR 8. No enforced optimized WAN bandwidth limit 9. 7070-H WAN capacity is specified at up to 2 Gbps for branch-to-data Center workloads and up to 3 Gbps for data center-to-data center workloads 10. SteelHead SD models have a larger RAM size: CX 570 = 8GB, CX 770 = 12GB, CX 3070 = 16GB 9. 7070-H WAN capacity is specified at up to 2 Gbps for branch-to-data Center workloads and up to 3 Gbps for data center-to-data center workloads 11. SteelHead SD model 770H Web Proxy Cache Capacity is 50GB NOTE: All WAN capacities, connections, flows and rules/classes specifications listed are maximums and may not be achieved simultaneously and/or in all environments
SteelHead CX: Power & Physical Specifications
Branch Office SteelHead
Mid-Size Office SteelHead
Large Office or Data Center SteelHead
Model
CX255 Series
CX570 Series
CX770 Series
CX3070 Series
CX5070 Series
CX7070 Series
Dual Power Supplies
-
-
Power [Watts] (Typical)
30
45
50
123
233
416
BTU
102
145
165
418
794
1419
Temperature2 
0-45°C / 32-113°F (Operating)
-40-65°C / -40-149°F (Storage)
10-35°C / 50-95°F (Operating)
-40-70°C / -40-158°F (Storage)
Relative Humidity1 
20%-80%, non-condensing (Operating)
5%-95%, non-condensing (Storage)
20%-80%, non-condensing (Operating)4
50%-80%, non-condensing (Storage)5
Operating Acoustic noise(Typical)
45 dBA
7.0 BA (operating condition in typical office ambient temperature: 23 +/- 2°C)
System Dimensions (LxWxH)3
13.0" x 8.0" x 1.73"
330 x 204 x 44mm
25.21" x 17.24" x 1.7"
640.43 x 438 x 43.2mm
27.87" x 17.24" x 3.45"
707.8 x 438 x 87.6 mm
Packaging Dimensions
17.7" x 12.2" x 7"
450 x 310 x 180 mm
36" x 24" x 13"
914.4 x 609.6 x 330.2 mm
36" x 24" x 14"
914.4 x 609.6 x 355.6 mm
Weight (without packaging)
5.5 lbs
2.4 kg
6 lbs
2.7 kg
27 lbs
12.25 kg
41 lbs
18.59 kg
42 lbs
19.05 kg
Rail Information
Included spare part RMK-010, Orderable RMK-016
Mounting Rail Included
Orderable Spare Part Numbers: RMK-1-VRAIL, RMK-1-PRAIL
1. Operating altitude up to 10,000 feet except in China 6,562 feet (2,000m) 2. In China – for use in non-tropical locations 3. Length is without bezel 4. Max dew point of 21º C / 69.8º F 5. Maximum wet bulb of 28º C / 82.4º F (at temperatures from 25-35º C / 77 – 95º F) NOTE: The availability, export or re-export of these products or specific features are subject to the export laws and regulations of the U.S., EU, Singapore, and the laws and regulations of any applicable foreign agency or authority
Pricing and product availability subject to change without notice.
Riverbed Products
License Upgrades for SteelHead CXA-5070
Upgrade LIC-CXA-05070M to LIC-CXA-05070H