Riverbed SteelCentral Network Planning and Configuration Management

Extend the visibility to your network configuration and topology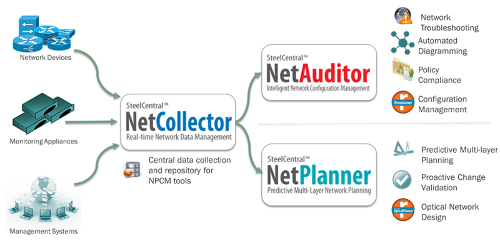 The Riverbed SteelCentral Network Planning and Configuration Management (NPCM) family of products, formerly known as OPNET Network Engineering and Operations Planning (NEOP), includes SteelCentral NetAuditor for intelligent network configuration management, SteelCentral NetPlanner for predictive, multi-layer network planning, and SteelCentral NetCollector for real-time network data management.
The Network Planning and Configuration Management suite includes:
SteelCentral NetCollector: Industry-leading deep network data management tool to acquire comprehensive from the network.
SteelCentral NetAuditor: Ensures network integrity, security, and policy compliance by performing automated network-wide audits and analyzing your network.
SteelCentral NetPlanner: Automates network analysis and network planning of multi-technology, multi-vendor networks.
The Network Planning and Configuration Management suite delivers:
Improved efficiency - Dramatically improve the creation and accuracy of network diagrams for troubleshooting, regulatory compliance, planning, change management and inventory reporting with on-demand maps and diagrams, in minutes – not weeks.
Higher availability – Reduce network outages up to 30% with customized, automated audit reports, detecting policy violations before they affect service availability
Easier infrastructure management – Reduce misconfiguration by up to 70% for infrastructure that's too important and too complex to be managed manually, using automated network configuration analysis
Enhanced Risk Mitigation - Run what-if scenarios to accurately plan for changes such as data growth, data center migration, technology migration, and new application deployment before making any risky changes to the production network